Grooming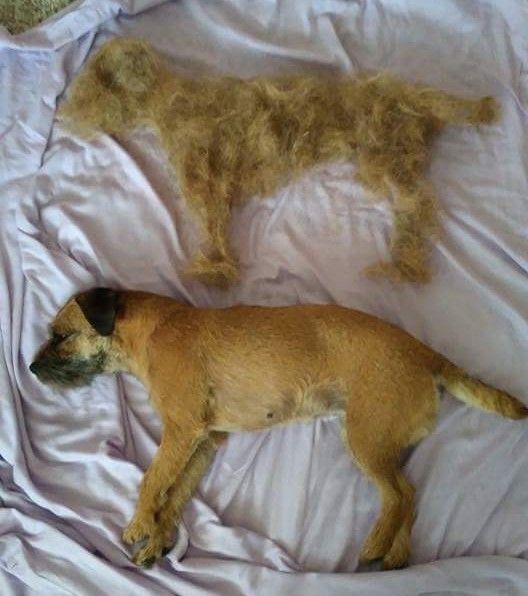 WE WOULD LIKE TO THANK
DAWN BLADEN (EMBLEHOPE BORDER TERRIERS - UK)
FOR ALLOWING US TO REPRINT HER EXCELLENT ARTICLE.
HAND STRIPPING AND GROOMING
The basic rule with any Terrier is HAND STRIP, do not clip unless absolutely necessary. Clipping alters the texture of the coat, it will become more Fluffy, non weatherproof with an exposed undercoat. It can give the coat a "soft" feel, when a Terriers coat in most breeds should be harsh.
As far as the Border is concerned, everything past the eyebrows comes off! Head, cheeks, ears, body, legs and feet!
First of all make sure your dog is ready for stripping. Borders look positively shaggy and the coat spilts along the middle of the back and appears long and will pull out very easily, this means the coat will be ready for stripping.
This Dog is ready for stripping.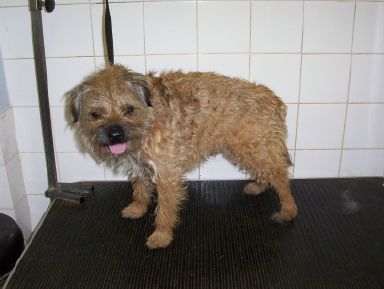 Now most people who show, and is really the corect method, will use finger and thumb, this can be tedious but gives the best effect. It will not break the coat as stripping knives sometimes can. Gently but firmly take hold of the coat and pull gently but firmly in the direction the coat grows.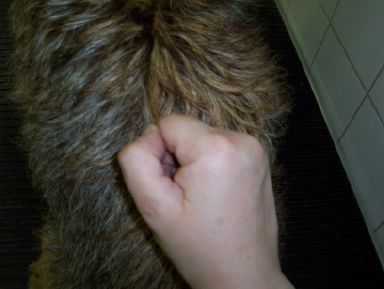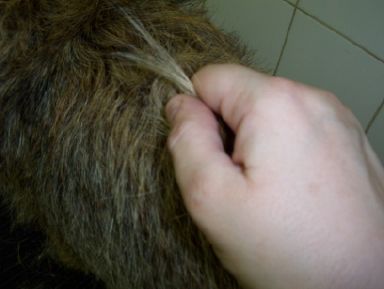 Repeat this right across the dogs body etc… untill all the dead coat is out. It may seem a mammoth task but it gets so much quicker and easier with practice, I can strip a Border from start to finish in an hour. Of course you don't need to do it all at once either, do a bit at a time, give time to you and your dog to get used to it.
In this next picture you can see how pulling the coat out shows the coat underneath, a brand new shiny jacket is waiting to emerge.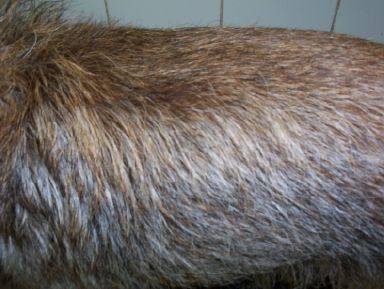 The same is said for using a stripping knife, and for a pet owner it is probably much quicker and easier than using finger and thum, at least to start with. Use a blunt stripping knife, available from decent pet shops or dog shows, "Mikki" do an excellent one, the red "fine" one is best and costs around £6.00. Here are a couple of pics of the knife being used, and showing the same effect. Itmust be said if a coat is not ready for stripping, a stripping knife can break the coat and should not be used.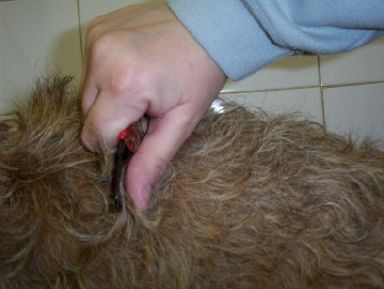 Trim round paws, bottom, and under tail with blunt ended scissors, its better to do round your males "privates" with scissors too, keep it clean!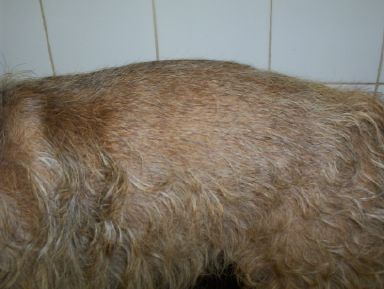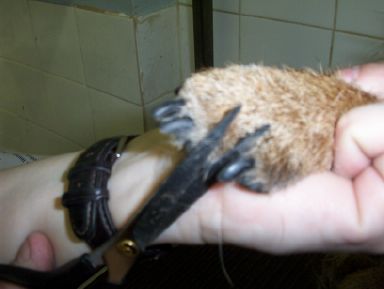 PLEASE remember if you have your dog professionally groomed, ask them for hand stripping only, especially with a Border. One final point to bare in mind is that a dog or bitch that has been neutered will sometimes have the texture of its coat altered by doing so, in many cases the coat will become too soft for hand stripping and and clipping may be the only thing to do.
The finished Dog.